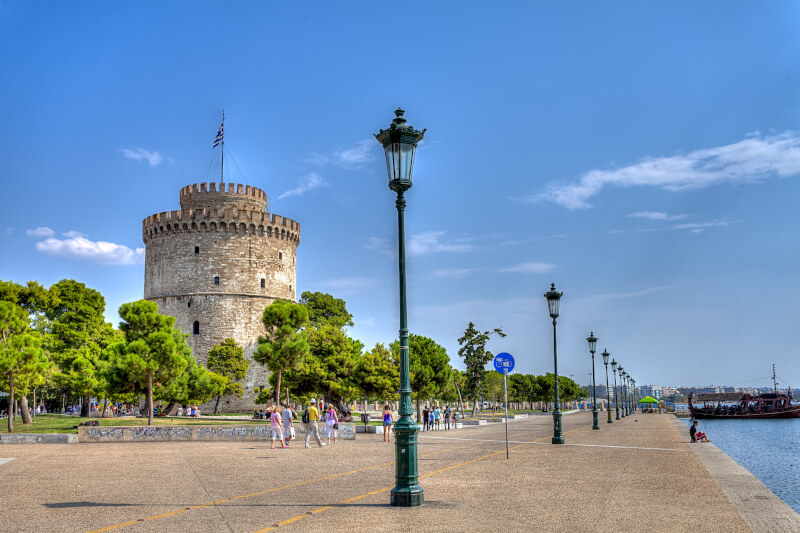 Thessaloniki Greece (or Salonica), the capital of Macedonia Prefecture, is the second largest city in Greece, after Athens. In fact, the town is honorarily called co-capital, for its historical and administrative importance. The history of the town started in ancient times and due to its strategic location, it played an important economic and political role in the wider region of the Balkans.
The town was founded in 315 BC by King Cassander of Macedon on the site of a former settlement named Therma. He named it after his wife Thessalonike, the half-sister of Alexander the Great. The name actually means "victory of the Thessalians" and it is believed that the woman was named like that because her birth coincided with a victory of the Macedonians with the help of the Thessalians.
Known for its great hospitality, you will easily feel at home in Thessaloniki or Saloniki alternatively. As the second major economic and commercial centre in Greece, it couldn't be missing a vibrant cultural life. You will find great events and festivals all year round. The city is a great gastronomic destination as well with great delicacies.
The city is famous for the great Byzantine monuments. Apart from the Paleochristian and Byzantine monuments, you can find Roman, Ottoman, and Sephardic Jewish structures.
You can fly directly to Thessaloniki through the Macedonia Airport. There are plenty of activities around the city like scuba diving in Chalkidiki, hiking and trekking on mount Olympus, or sailing in the Thermaikos bay. You can also take a ferry to the islands in northern Aegena Sea, like Skiathos, Skopelos, Alonissos, Mytilene/Lesvos and many more.
Useful links:
European Interbalkan Medical Center